Great addition
"This expansion is a great addition to the game. It gives the game a lot more games and makes it more interesting."
— Marcus
United Kingdom
Royal Mail 48h Tracked: 2 - 4 days
Germany
DHL: 2 - 4 days
EU
DHL: 3 - 7 days
Rest of world
DHL: 1 - 3 weeks
Our Manufacturer, Ludo Fact, has been environmentally conscious for over 25 years. They use regional sources to minimize transportation distances and reduce their environmental impact and are a pioneer in the field of carbon-neutral electricity production ⚡

The company strives for sustainability by utilizing sustainable wood in their products and non-toxic colours free from harmful chemicals or dyes.
Great addition
"This expansion is a great addition to the game. It gives the game a lot more games and makes it more interesting."
— Marcus

Start playing in 3 simple steps
Order
Place your game in the cart and proceed to checkout. Simply provide your address and pay using your preferred method, we'll do the rest.
Prepare
Shipping is fast and reliable, expect to be playing in 3–7 business days. Use that time to check out the rules and plan a game night with your friends.
Play
Superclub is easy to learn and hard to put away. Want to add to your game with more of our awesome expansions? Simply repeat these three steps.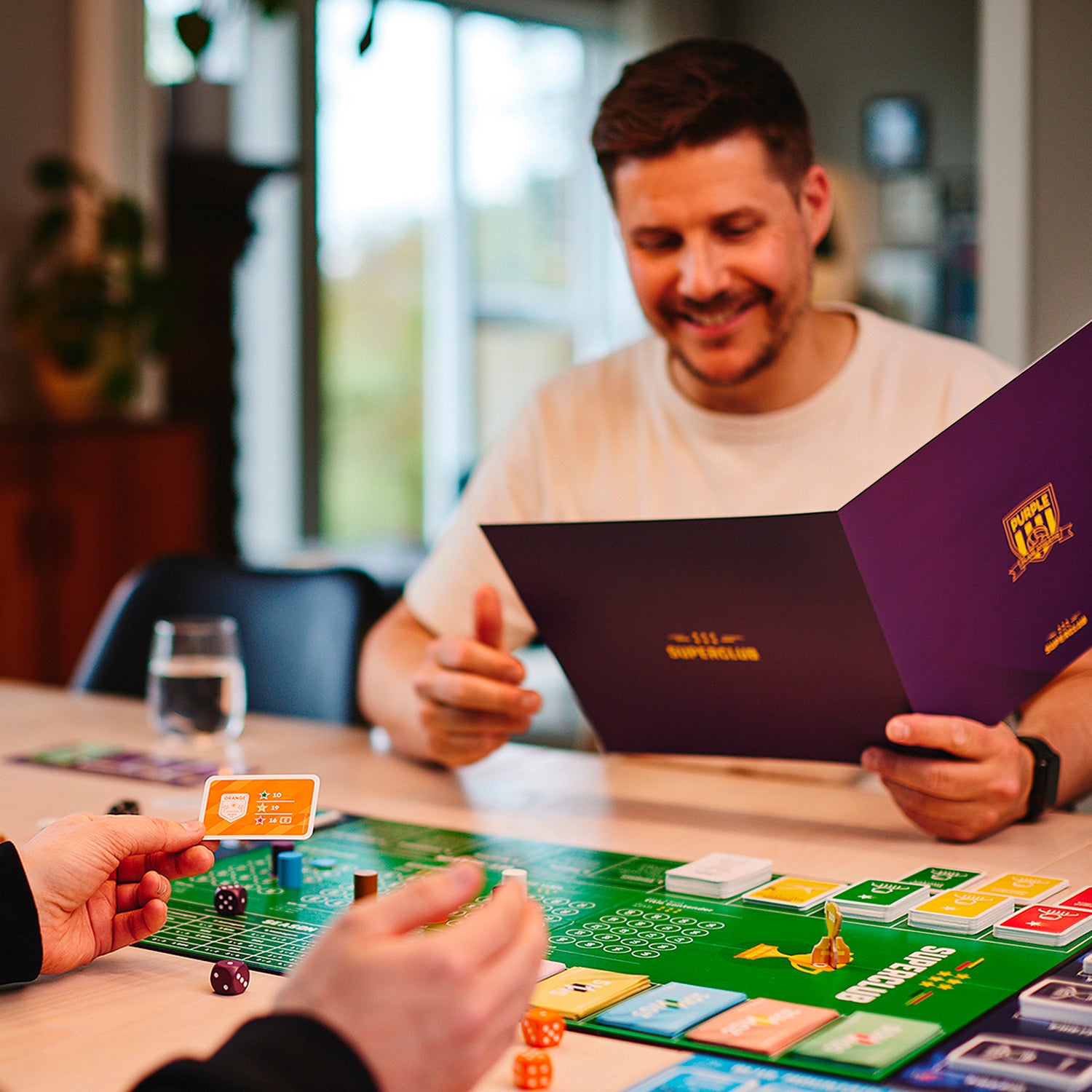 Powerhouses rules
Experience epic highlights with fewer managers. The Powerhouses expansion replaces the Simulated matches (SIM) with matches against powerful opponents.
Learn the rules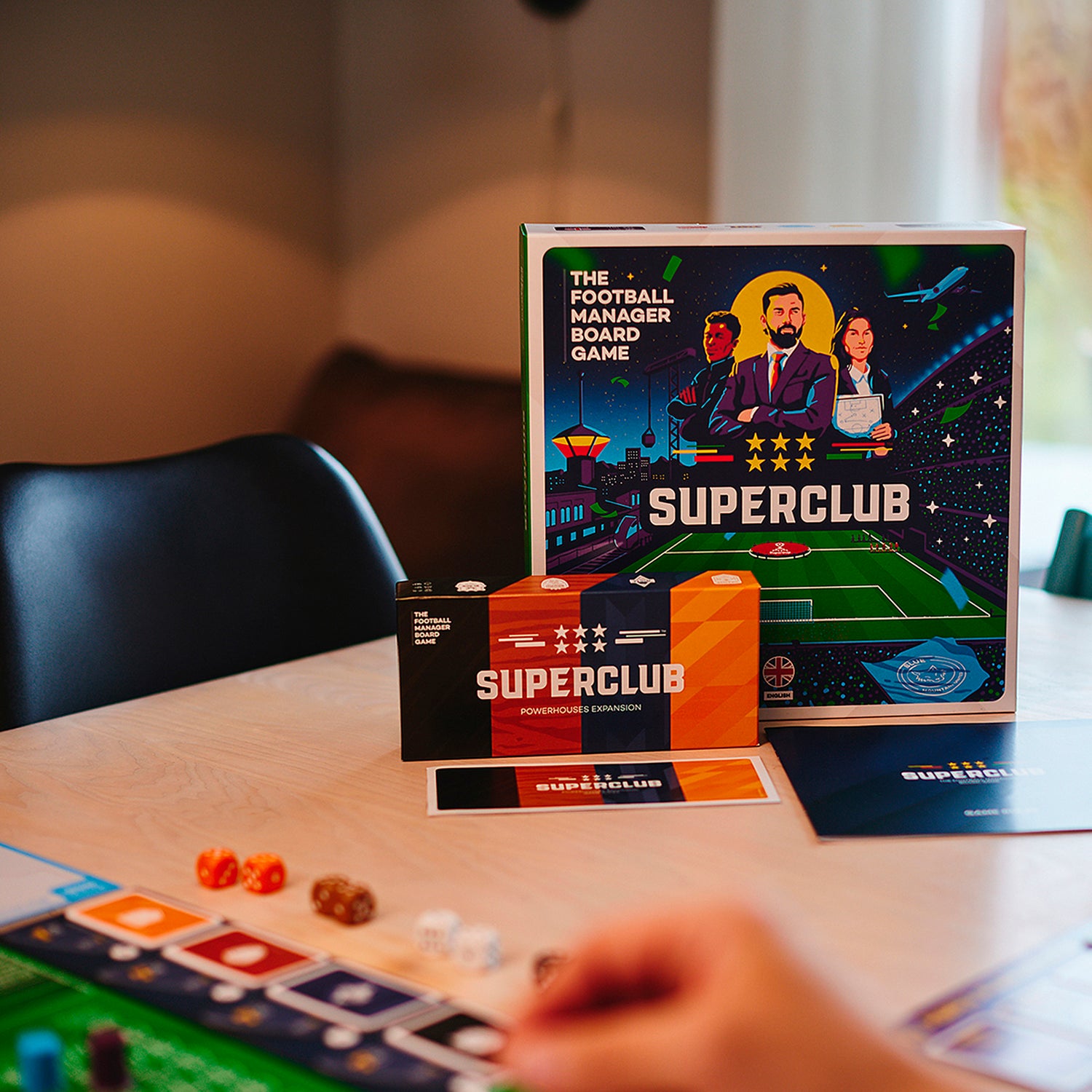 This is Superclub
The easy-to-learn, hard-to-master, impossible-to-dislike football manager board game.
Learn more
Sehr cooles Spiel!
Meine Kinder 11 und 13 Jahre alt spielen es sehr gerne und auch wir Erwachsenen haben viel Spaß. Schön das man die Kinder nicht vor einen Computer setzen muss, sondern es dieses Brettspiel gibt.
Good Expansion
Because the Powerhouses have no development option they are too strong in the beginning and to weak at the end. So I made own Powerhouses cards that develop per season as well as the squad strength. The new trait brings an interesting new option because with 6 players you want to have a captain in your Team to have the full effect of captain boost. Great new cards.
Nice to have for People who don't like SIM Games!
I think that the Powerhouse Expansion is nice to have for all those who don't like SIM Games. I don't like the simulations so I like the Expansion really much. There's only one problem. I don't like that the Powerhouses are that strong. They are so strong that in a long game if you have bad luck you play for almost 6 hours. This is a bit long. Also I think it would be great if there would be some changes. I mean yeah sometimes there defense is better, sometimes the offense but all in all there is no change and this makes the game a little bit monotonous.
I think it would be great if for example the League Expansions would have some Powerhouse Clubs too. So in LaLiga you can play against Real Madrid for example! That would bring more fun! I love your game but I think that you could bring more stuff into the expansion. But this expansion price is fair in comparison to the Wildcards Expansion.
Frequently asked questions
Estimated shipping to EU, UK, and Norway is 3-7 business days. If you live outside of these countries, you may expect delivery within 1-3 weeks.
We accept Visa, Mastercard, PayPal and Amex.
Superclub can go anywhere!
Ready to build your own Superclub?
Order today and enjoy countless hours of fun