Rogers masterclass: Investment strategy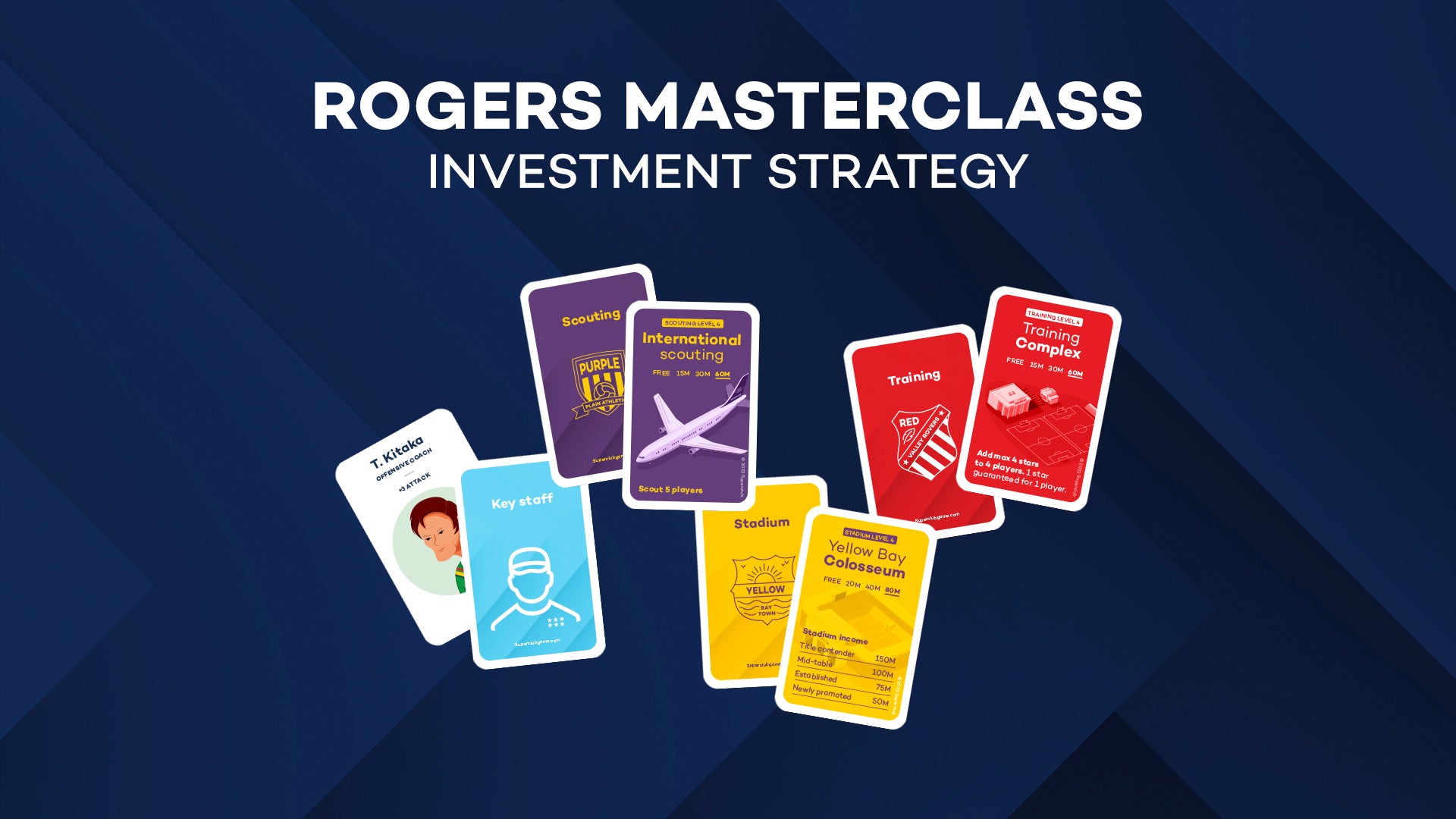 One of the first dilemmas we find in a game of Superclub is what to use our investment actions on, being able to choose two actions per off-season out of the following four areas: scouting, training, stadium and key staff. So which of these areas should we invest on? There isn't one right answer to this question – the game is well balanced, and a successful strategy depends on many factors, including luck, but there are some things that may make it more profitable to invest on one area or the other.
Stadium
There is one investment that works for every team, though – investing in the stadium in the first off-season. It will quickly pay off, and your club will get more money every single season. And it will probably be wise to upgrade your stadium to level 3 soon after, maybe even level 4. Just bear in mind that it may take two or three seasons for the investment to pay off, so if you're approaching the end of the game, it will be a useless investment. Investing in the stadium should be done early in the game.
Training and scouting
You should also definitely invest on training and scouting to improve your squad, otherwise the main chance you will have to sign better players would be buying the overpriced players on Deadline Day. But what is best – training or scouting? It depends on many things, especially on the players you have. If you have several trainable talents that can get up to 5 or 6 stars, you should definitely invest regularly in your training facilities, so that you are able to train more players – and much faster. However, if you don't have many trainable players – or the ones you have can only get to a maximum of 3 or 4 stars – investing in your training facilities may not pay off. In this case, it could be right to invest in your scouting, so that you can get better players, especially if your squad is not good enough. Who knows, you may sign two or three players that you can train up to 5 or 6 stars and then in the next off-seasons you could invest in your training facilities.
Key Staff
Regarding the Key Staff, it sometimes pays off to invest on it early, especially if you're lucky to get cards like Lev Ellup – who will automatically add 1 star for free to every trainable player you sign throughout the whole game – Roi Surge, Dwight Price and Bill Benjamin – who will give you money every season – and Sally Reecut –who will reduce your players wages by half. These cards will pay off quickly and give you a constant benefit throughout the whole game. But the other Key Staff, especially those that boost one of your thirds, you will need them at the end of the game rather than at the beginning. Because the main goal of the first 2-3 seasons is setting the foundation of a good team that will win in the future, rather than winning the first season and not improving much later on.

Of course, as the game goes on it is very useful to have good matchday Key Staff members, such as those that give you a three star boost in one third, but at that point, someone else may have gotten them and you're left with the weakest Key Staff members. So, who knows. It may be a good idea to sign T. Kitaka from the first season…
As you can see, Superclub is really well balanced. There are multiple good strategies depending on different factors. And also, maybe you invest wisely but then luck is not on your side – for instance, you may have amazing trainable players and a good training centre, and always roll a 1 or a 2. Or you may have international scouting and always pick bad players. Or choose to invest in key staff and not get any interesting staff members. Luck plays an important part. However, if you have a good strategy and make wise decisions, you will have more chances to be successful.
---

Follow Superclub on Instagram, Facebook and Twitter for all the latest news and updates.
Join our newsletter and get a 15% discount on your next purchase (excluding already discounted products).