10 Reasons to Get Superclub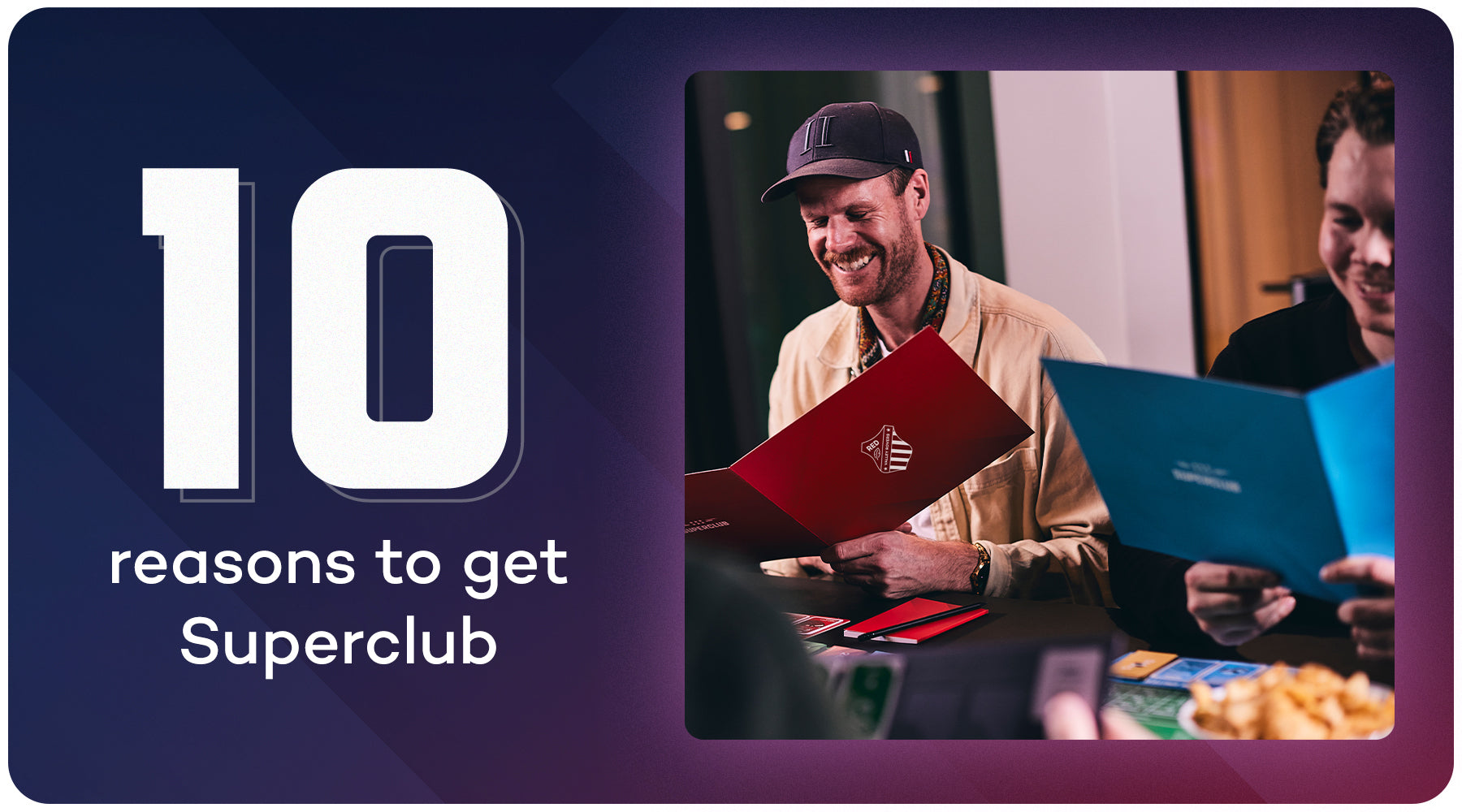 In a world of screens and clicks, meaningful time with family and friends can be hard to come by. Football and board games are both amazing antidotes to some of the anti-social behaviors that we've adopted as everyday life. What happens when you mix the two, is truly special.
Once you get it, you'll get it.
1. Brings Family, Friends and Football Together
Superclub isn't a normal board game; it's a social football game that just happens to have a board. Take the best parts of board games – a fun and inclusive social experience – add a supercup of football and you have Superclub.
2. Has Something for Everyone
No matter your level of football fandom, Superclub has something to offer. If you live and breathe football, Superclub is obviously top bins. But even if you're not a football fanatic, the game's appeal extends well beyond the football community simply because it's a very good game. Though it helps to have at least one football fan around the table to set the tone.
3. Is the Perfect Gift
Finding the perfect gift is a perpetual struggle. Almost everyone knows someone who enjoys football, the boxy Superclub shape is easy to wrap and shipping is fast and reliable. In short, Superclub is an ideal gift that suits various occasions and age groups. And the recipient will love you for introducing Superclub to their lives.
Read our gift guide 
here.
4. Works Off the Grid
Superclub offers the freedom to play anywhere, anytime, without the need for a computer, electricity, or additional expenses. Power outage? No problem, just light a candle and start playing. Screen time restrictions? Log off and get to work. Massive cyber attack destroying every aspect of modern infrastructure? Close the door and open the box. Any flat surface will do.
5. Lets You Manage Your Own Team
During FIFA World Cups or UEFA Euros, it's said that the German national team has 83 million managers. Superclub allows fans to live out the very common dream of being a football manager – all in an action packed evening of friendly competition, gratifying team-building and tactical decision-making.
6. Reminds You to Log Off
In this era dominated by tiny screens and big algorithms, Superclub provides an opportunity to escape – if only for a few hours. In fact, why don't you log off right now and just start playing? Who knows, perhaps you'll even find yourself feeling slightly better, a little less anxious and stressed, out after an evening around the table with the ones you love? Just a theory.
7. Offers Incredible Value for Money
Your Superclub will stand the test of time. It's a one-time purchase that promises years of enjoyment without costly subscriptions or ads ruining the immersion. With high-quality components, enduring appeal and high replay value, Superclub is not just a game; it's an investment in many great game nights.
8. Is Worth Playing Again and Again
Superclub's simplicity makes it easy to grasp, and its depth makes it a game worth playing repeatedly – a killer combo! Elements like the hundreds of player cards, the initial draft, different match day tactics, game changers, key staff, and even house rules, ensure that each playthrough is an exciting experience.
9. Has a Clean and Beautiful Design
Superclub is more than just a game; it's a work of art. Its spectacular design and attention to detail make it a visual treat, an aspect that truly adds to the overall enjoyment of the game.
10. Promotes Friendships and Community Spirit
By embracing Superclub, you'll create deep social bonds around the table every time you play. But you'll also become part of a larger community of managers. Next time you play, why not invite someone new and introduce them to the group – and the game? It's like as a friend request, only real. A Facebook friend is a Facebook friend, a Superclub friend is just a friend.