Groundbreaking
"When a board game is able to get a group of teenagers to sit outside and play for 6 hours without a phone in sight, you know it is special. All out fantastic game."
— Jeppe
Superclub – Le jeu de gestion de club de foot
Build your squad. Manage your club. Cement your legacy. Superclub combines match day tactics with big picture decisions to give you football on every scale. Team selections, stadium expansions, staff hiring, scouting, player development – skills and luck – it's all here!

Build a footballing powerhouse brick by brick over multiple seasons, all in one highly eventful game night. In short, Superclub is the complete experience of managing a football club in direct competition with the ones you love ... to beat.

Managers: 2-4
Age: 12+
Genre: Football, strategy, family
Language: Français 🇫🇷
Also available in
Endless tactics and strategies 🤔
Scout and train supertalents 🔍
United Kingdom
Royal Mail 48h Tracked: 2 - 4 days
Germany
DHL: 2 - 4 days
EU
DHL: 3 - 7 days
Rest of world
DHL: 1 - 3 weeks
Our Manufacturer, Ludo Fact, has been environmentally conscious for over 25 years. They use regional sources to minimize transportation distances and reduce their environmental impact and are a pioneer in the field of carbon-neutral electricity production ⚡

The company strives for sustainability by utilizing sustainable wood in their products and non-toxic colours free from harmful chemicals or dyes.
Groundbreaking
"When a board game is able to get a group of teenagers to sit outside and play for 6 hours without a phone in sight, you know it is special. All out fantastic game."
— Jeppe

Superclub – Le jeu de gestion de club de foot
Start playing in 3 simple steps
Order
Place your game in the cart and proceed to checkout. Simply provide your address and pay using your preferred method, we'll do the rest.
Prepare
Shipping is fast and reliable, expect to be playing in 3–7 business days. Use that time to check out the rules and plan a game night with your friends.
Play
Superclub is easy to learn and hard to put away. Want to add to your game with some of our awesome expansions? Simply repeat these three steps.
Manage your own team
The manager folder is where you set up your team, manage your squad and place Key staff members. You get 4 team-branded folders in Superclub. They are made from custom-ordered, soft-touch, black-core paper normally used only in high-quality cards. They are gorgeous, practical, and essential to the playing experience.
*Purple utility players are not included in the base game.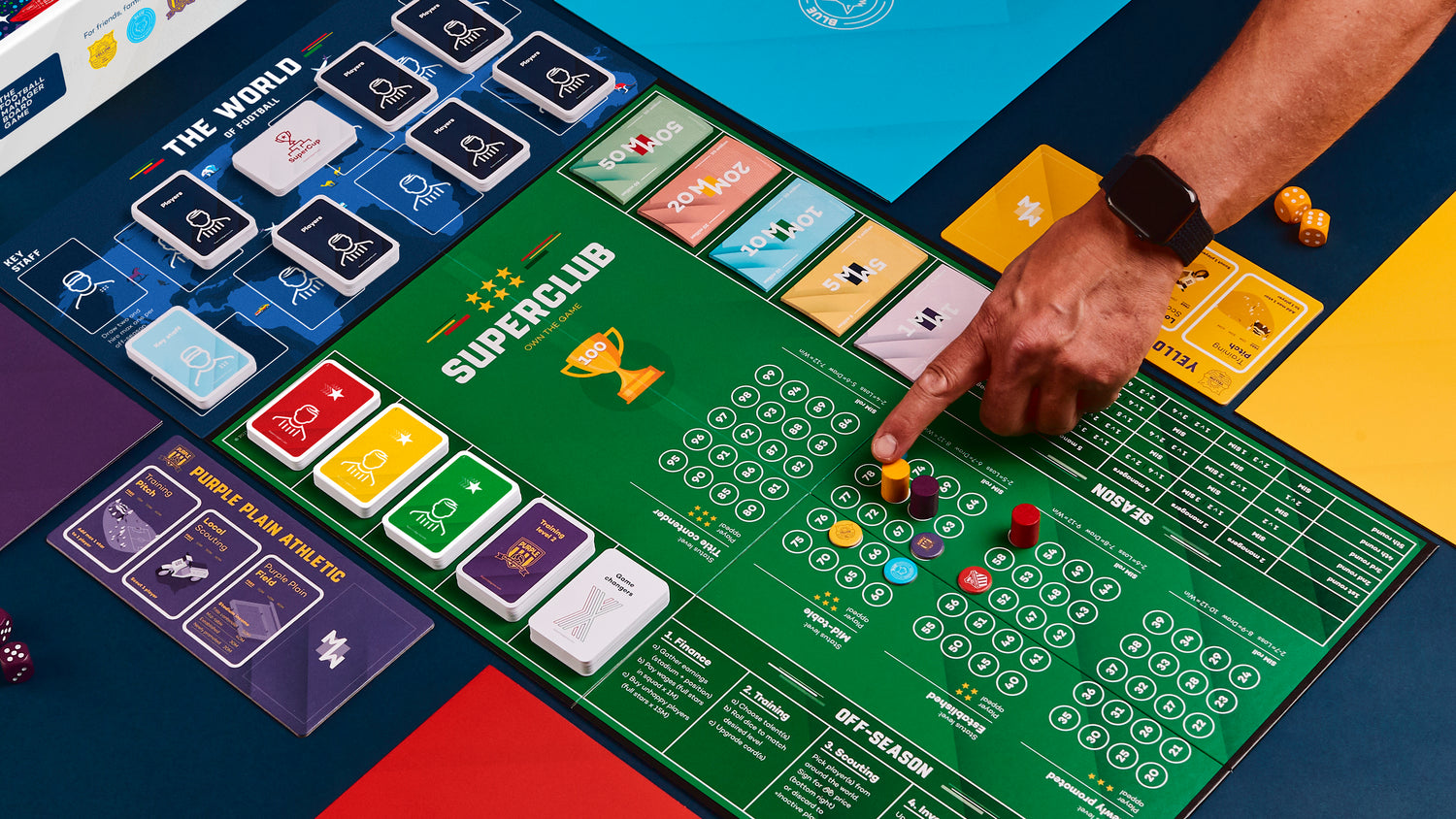 Become a Superclub
Think of the main board as your league table, where you mark your points as you climb up the league. It features a double-sided design with one side in green and the other in blue. The board also has dedicated slots for cards and money etc.
Get to know The World of Football
The "Draft" and "The World of Football" boards are essential companions to the main board. The double-sided design facilitates actions like drafting, scouting, and deadline day.
Scout, sign and train players
Explore a selection of 140+ players, offering a bunch of talent to choose from. Uncover promising talents or established superstars like Garibaldi. Categorized into four types – Goalkeeper, Defender, Midfielder, and Attacker you will find just the player you need for every position in your team.
Invest in the long-term future of your club 
Building a Superclub requires smart investments. Invest in Training, Scouting and/or Stadium, each providing unique benefits. The club pad serves as your club's central HQ, granting you control over your investments and finance.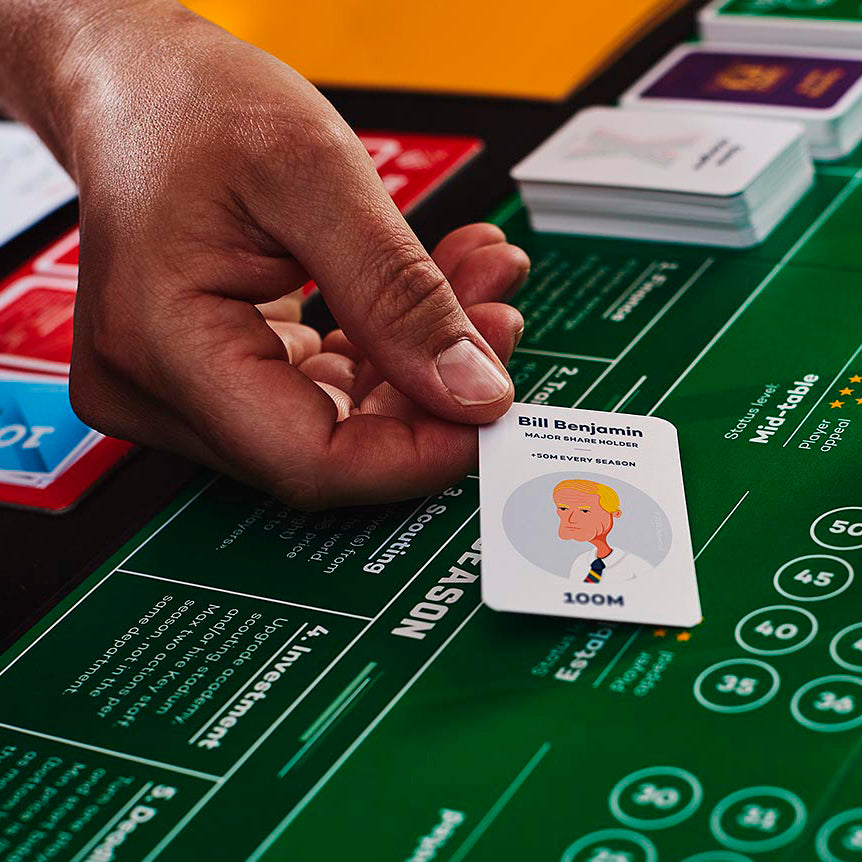 Key staff and Game changers
Key Staff members can be the key to victory. These talented professionals all give you an edge in their specific fields of expertise, and you can hire up to 3 of them. Game Changer cards do what it says on the tin – they change the game, but not always in a good way.
Get started with Superclub
The easy-to-learn, hard-to-master, impossible-to-dislike football manager board game.
Learn more
Bonfire-level bonding
Gather round! Then gather points. Tactics, training, real life transfer negotiations … it's all right there. As are your opponents.
Invite your friends
Football dream
This was a suprise. I can't tell how much fun we had playing this game for hours. If you love football this game is a must have. Everything you dream doing in a football club is here: buying famous players, improving Stadium and training, playing agains you friends… WHAT A GAME!! I just need the expasion now but I dont have enough money for that. Can you give one to me SuperClub? Thank you SuperClub for this amazing opportunity of spreading joy with this experience.
Really amazing
Exactly a Game I was looking for!
One of the best board games ever created!
This really has been a surprise! The game is very cleverly structured to add all kinds of fun, even with only two people playing! And you don't even have to be a football enthusiast to enjoy the game! Congrats to the creator, he's given us enormous hours of fun!
Frequently asked questions
Estimated shipping to EU, UK, and Norway is 3-7 business days. If you live outside of these countries, you may expect delivery within 1-3 weeks.
We accept Visa, Mastercard, PayPal and Amex.
Superclub can go anywhere!
Ready to build your own Superclub?
Order today and enjoy countless hours of fun